The George County Mississippi Amateur Radion Emergency Service (A.R.E.S) Group will be hosting the "Scratching Post" QSL Party in the Lucedale City Park on Saturday October 7, 2023 from 1100 to 2300 UTC (6:00 AM to 6:00 PM CDT).
We will be operating under the Special Event Callsign of K5K.
This event is to honor Lucedale's famous Scratching Post and the objective of this event is to promote the Amateur Radio hobby in our area and to allow anyone wishing to participate and gain some ham radio experience.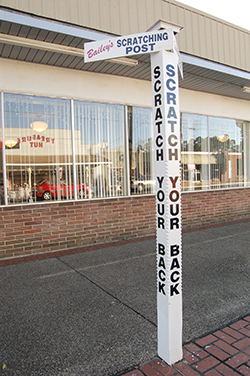 There will be a custom designed Special Event QSL Card, which will be a unique collector's item and this Special Event QSL card will be exchanged with fellow operators who make contact with us during this Special Event.
This is a FREE event, open to the public, so we hope everyone can come out and join us for this Special Event and learn what amateur radio is all about!
For more information on this event, contact Bob Barber: (601) 766-5653 or This email address is being protected from spambots. You need JavaScript enabled to view it.
For more information about Amateur Radio contact the Ham Radio Hotline: (601) 530-0055 or This email address is being protected from spambots. You need JavaScript enabled to view it.